Shaping Healthy Lives
Food insecurity, or the state of being without reliable access to a sufficient quantity of affordable, nutritious food for an active, healthy life, is a real issue for many families in Durham County. More than 46% of children in Durham County live in low-income households, and we know from research that individuals in low-income households are disproportionately affected by obesity, diabetes and food insecurity. In fact, in Durham County, 25.6% of children ages 2-4 from families with low incomes are overweight or obese. Shaping Healthy Lives is a continuation of Shape NC, a three-year project funded in part by grants from the Duke Community Cares Fund.
The Child Care Services Association's (CCSA) program, Shaping Healthy Lives works with child care programs to reduce childhood obesity and instill healthy behaviors early on, creating a solid foundation for a healthy life for children ages birth through 5 years old. With many families suffering under- and unemployment during the COVID-19 pandemic, it's even more important than ever that children get healthy meals and increased activity at their child care program. To that end, CCSA is implementing Shaping Healthy Lives, a continuation of Shape NC, a three-year research project that ended in 2020.
Focused on children ages 0-5 years old in 4- and 5-star licensed child care centers in Durham County, child care centers participating in Shaping Healthy Lives must accept child care subsidies to serve children from low-income families (households making less than 200% of the federal poverty level qualify for subsidy). All of the programs participating in Shaping Healthy Lives accept child care subsidies.
Often for children from families earning low incomes, the meals they eat at their child care center may be the only ones they eat that day. Therefore, the nutrition children receive through Shaping Healthy Lives could have long-term effects on the health and food security hundreds of children in Durham County. In addition, Shaping Healthy Lives has the potential to affect even more children and their families over time, because teacher and parent knowledge gained during the project will create healthy habits in this group of children and future cohorts of children in the centers and in their homes.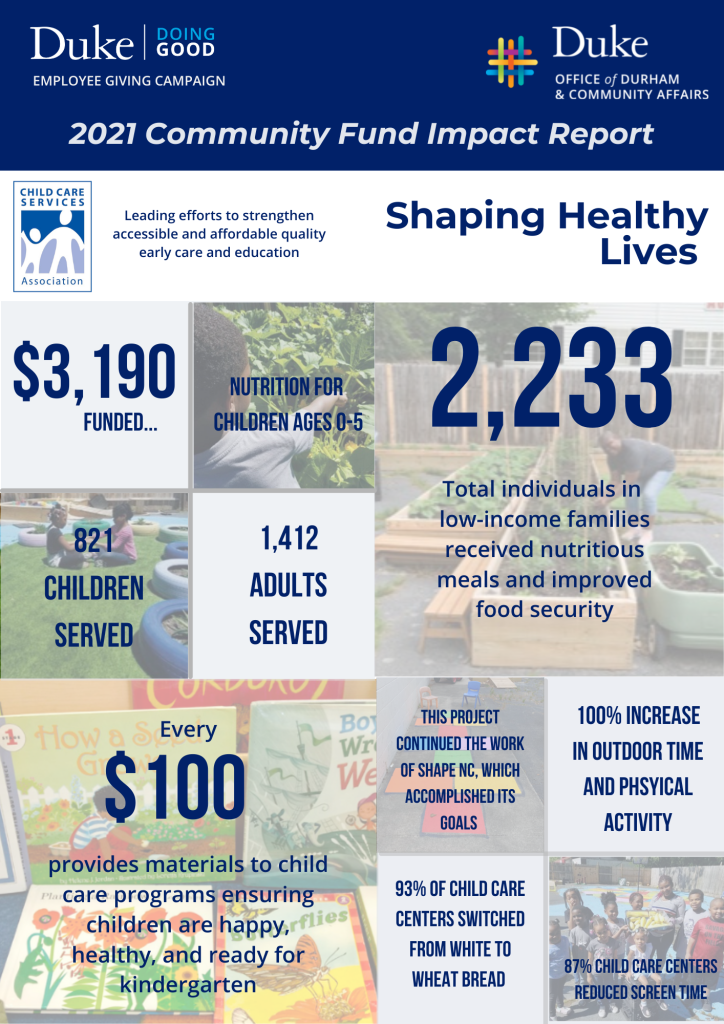 The goal of Shaping Healthy Lives is to help child care programs in Durham provide opportunities so children may enter kindergarten healthy and active, regardless of their family's circumstances. The success of Shaping Healthy Lives is measured against the number of participating programs and their willingness and ability to implement best practices in their classrooms, the food offered to and activities scheduled for children attending these programs and the amount of coaching provided to early childhood educators working at participating programs. Early childhood educators and families are enthusiastic about ensuring that their children have healthy meals at their child center.
Shaping Healthy Lives continues work with:
100% child care centers increased time spent outdoors and engaging in physical movement from 60 to 90 minutes
93% child care centers switched to whole wheat bread, no longer using white flour
93% child care centers completed their Go NAP SACC assessment
80% child care centers transitioned to family style meals (pre-COVID)
87% childcare centers reduced screen time from 2.5 hours to 30 minutes (pre-COVID)
93% child care centers transformed playgrounds into natural outdoor learning environments adding vegetable gardens, greenery, flowers, natural shade and trike trails
Shaping Healthy Lives continues work with these programs to ensure that these best practices are integrated into the usual operations of the child care programs, extending the benefits of healthy eating and physical activity to even more young children in Durham County. program, and we are grateful to Duke Community Cares Fund for this grant.
Have a question? Get in touch today.