"Every year hundreds of thousands of low-income students face barriers to college access and success. Low-income students often lack the guidance and support they need to prepare for college, apply to the best-fit schools, apply for financial aid, enroll and persist in their studies, and ultimately graduate."

—INCREASING COLLEGE OPPORTUNITY FOR LOW-INCOME STUDENTS: PROMISING MODELS AND A CALL TO ACTION (WHITE HOUSE REPORT)
About our Program
The College Advising Corps (CAC) at Duke University works to increase the number of low-income, First Generation College and underrepresented high school students in rural North Carolina who enter and complete higher education. Duke currently has 18 college advisers in central North Carolina high schools. The program is sponsored by the John M. Belk Foundation, AmeriCorps, The Anonymous Trust and The Duke Endowment.
Even many of the highest-achieving disadvantaged students — young men and women who are well qualified to continue their education beyond high school — do not consider attending a four-year college, and many who say they plan to apply, never do. The national student-to-guidance-counselor ratio of 467:1 means that the average student spends 20 minutes per year talking to his or her counselor. Moreover, low-income and first-generation students are particularly underserved, with many never seeing a college adviser.
Our Advising Model
Emphasizes a near-peer model so advisers are close in age to the students they serve.
Works in partnership with colleges and universities across the state, drawing on their infrastructure and resources.
Serves the whole high school, rather than a cohort of particular students, to foster a school-wide college-going culture.
Participate in a national external evaluation to quantitatively measure outcomes and qualitative results.
Focuses on best-fit colleges, encouraging students to attend schools that will serve them well both academically and socially.
Program Eligibility
In order to comply with the National College Advising Corps "near-peer" advising model, all adviser candidates must meet these requirements in order to be considered for employment:
Advisers should have a successful academic record.
Advisers are hired for a one-year service commitment with an option to be re-hired for a second year. Advisers cannot serve with the Advising Corps for more than two years.
Advisers must demonstrate a commitment to public service as evidenced by previous work in the community and/or among the targeted populations.
Duke advisers receive intensive training before serving in a high school, completing a five-week practical curriculum that focuses on college access, college admissions, financial aid, student services, diversity, community service, and professionalism.
Partner High Schools
Bartlett-Yancey High School (Caswell County Schools)
Cedar Ridge High School (Orange County Schools)
CE Jordan High School (Durham Public Schools)
City of Medicine Academy (Durham Public Schools)
Garner Magnet High School (Wake County Schools)
Hobbton High School (Sampson County Schools)
Knightdale High School of Collaborative Design (Wake County Schools)
Lakewood High School (Sampson County Schools)
Lee County High School (Lee County Schools)
Midway High School (Sampson County Schools)
Northern High School (Durham Public Schools)
Orange High School (Orange County Schools)
Person High School (Person County Schools)
Riverside High School (Durham Public Schools)
Smithfield-Selma High School (Johnston County Schools)
Southern Lee High School (Lee County School District)
Meet Our Advisers
Neli Ekeji
Hello! My name is Nelia "Neli" Ekeji, and I am a returning adviser serving
at Jordan High School in Durham. At Duke, I majored in International
Comparative Studies with Global Health and Chemistry minors. Outside
of class, I participated in opportunities oriented around global health,
working with immigrant populations, increasing STEM access for young
girls, and writing/journalism. I'm applying to graduate programs in public
and global health, health policy, and social and behavioral sciences. In my
free time I like to watch TV, practice the keyboard, read, and bake!
Rebekah Lester
My name is Rebekah, and I am excited to be a College Advisor this year! My family now lives in Oregon, but Texas is my home state. I love
eating ice cream (especially Blue Bell), spending time with my family,
watching sunsets, and making puzzles. I am a twin sister and have 3 older
siblings as well. I graduated from Duke in 2020 with a Psychology major
and an Education minor, both of which I hope will help me in this Duke CAC
role.
Olivia Morales
My name is Olivia, I'm originally from Fort Myers, FL, and I graduated with
a BA in Public Policy Studies with a minor in Spanish. My family originates
from the islands of Cuba and Puerto Rico, and have lived in the US for 50+
years. I live with my mom, dad and grandmother (who just recently
celebrated her 90th birthday). I also have an older brother, Kenny, who
lives about 2 hours away in St. Petersburg, FL. I am a huge music lover and
always looking for new music to listen to; as of now, I would consider my
favorite musical artist to be BTS.
Sierra Lunn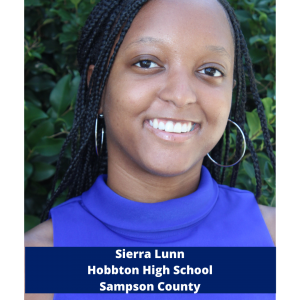 I'm from Waxhaw, NC, a small town outside of Charlotte. While growing up, I
became interested in promoting higher education to younger, underrepresented
students because my parents constantly stressed the importance of education to
me. I graduated from Duke in May 2019 with a BS in Biology, and the following
Fall, I began to work as a college advisor at Hobbton High School. In Fall 2021, I
hope to matriculate into medical school.
Aquella Lawrence
My name is Aquella Lawrence and I am from Roanoke Rapids, North Carolina. I
am a first-generation college student and I double majored in Sociology and African & African-American studies with a minor in Psychology during my time at Duke. I have always wanted to work with children so I'm super stoked about
being a college adviser this upcoming school year! I value friendship and advocacy and I believe that these ideals along with training will get me where I wish to be in this career and with the students.
Jimmy Hill
My name is Jimmy Hill and I graduated in the class of 2019 with majors in global health and history. I worked in Atlanta for Microsoft doing sales for the past year but am really excited to be back in the Raleigh/Durham area doing work I'm excited about this year! I grew up on the west coast (best coast) but love the south, especially the sudden thunder storms, lightning bugs, and front-porch sunsets. I'm obsessed with stories, music, sports, and art, so if you ever want to have a conversation hit me up!
Milan Hamilton
My name is Milan (like the city)! I am originally from Dallas, TX where I went to a performing arts high school, studying dance, before coming to Duke. At Duke, I majored in Psychology, with a minor in Education and a Certificate in Child Policy Research. On
campus I continued my love for dance by joining a dance group on campus called Defining Movement (DefMo)! I also was a Service Learning Assistant, a tutor through ARAC, on exec boards for Black Student Alliance and my sorority and in Hoof N Horn's first all black production of The Wiz!! I loved my time volunteering and working in schools SO MUCH that I knew College Advising Corps would be the perfect post-grad job and I can't wait to work with you all! After my 2 year service, I hope to get my Masters in Education or School Counseling and later my EdD and go on to help eliminate gaps in our school systems.
Tia Kelley
My name is Tia and I am a returning adviser at Smithfield Selma High School in Johnston County. I majored in Psychology with a goal of attending medical school. My work with CAC has since led me on a different path where I hope to become a counseling psychologist. When not working, I'm most likely watching tv, listening to music or on Tik Tok!
Janel Ramkalawan
Hi, I'm Janel! I am from Trinidad & Tobago and grew up in Orlando, FL. I studied English at Duke, and am now taking a gap year before (hopefully) starting medical school next fall. Painting, short stories, Schitt's Creek and my cats are a few things that I love.
Ethan Ready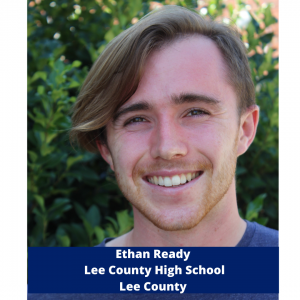 I'm Ethan, from Chapel Hill, North Carolina. At Duke, I majored in
Environmental Science and History with a minor in French. I also ran for the
Track & Field and Cross Country teams, and worked as an RA. I'm excited
for training and to start work at Lee County High School!
Axel Herrera Ramos
My name is Axel Herrera Ramos and I am a proud immigrant. I was born in
Honduras but have lived in NC for most of my life. At Duke, I got my degree
in Economics and also double majored in Sociology. My interests generally
revolve around issues of equity and justice within immigration and
education and potential policy solutions. Asides from the political and
philosophical topics or questions, I am always open to having endless
conversations on any technological or scientific innovations, DIY car mods,
workout routines, and whatever new series or movie is worth binging.
Bethany Hewett
I am a first-generation college graduate from Pilot Mountain, NC and I studied philosophy, religious studies, and earth and ocean sciences at Duke. I enjoy rollerblading, painting, watching reality tv, cooking and drinking wine. I currently live in a loft downtown in Burlington NC with my fiancé and our friend Wyatt. I am so excited to be working at Bartlett-Yancey High School in August.
Jonah Rodgers
I am Jonah Rodgers from Little Rock, AR. As a Duke Undergraduate, I
majored in Biology with a minor in Chemistry. I intend to enter medicine professionally. In the meantime, I hope to be an even greater asset and post-secondary support resource for less advantaged high school Seniors in central North Carolina.
Savannah Bunn
I'm a second-year adviser at Midway High School from the small town of Bath, NC! I majored in Psychology and minored in Biology. I love Duke basketball and anything involving cake! One of my favorite parts of being an adviser is assisting students in gaining self-advocacy skills.
Jose Ortega
I'm Jose Ortega and I'm originally from Hillsborough, NC. I graduated from Duke in 2019 and majored in Neuroscience with a minor in Music. In my free time, I like to hike, collect shoes and watch anime. I joined CAC because I saw the importance of a College Adviser, especially at a rural public high school, and I could have immensely benefited from it. I'm excited to spend another year in the program!
Frances Beroset
I grew up in Pittsboro NC and graduated from Northwood High School. At Duke I majored in psychology and minored in literature and education. Outside of CAC I love gardening and baking. One fun fact about me is that I forgot how to ride a bike!
Sally Tran
I grew up in an area of Georgia full of low-income immigrant families.
Because of my background, I found myself interested in topics like access. I had the opportunity to analyze my interests critically and empirically through my education in Gender, Sexuality, and Feminist Studies and Psychology at Duke. Now, I take those lessons with me in the sphere of post-secondary attainment as a college advisor with the Duke College Advising Corps.