"Every year hundreds of thousands of low-income students face barriers to college access and success. Low-income students often lack the guidance and support they need to prepare for college, apply to the best-fit schools, apply for financial aid, enroll and persist in their studies, and ultimately graduate."

—INCREASING COLLEGE OPPORTUNITY FOR LOW-INCOME STUDENTS: PROMISING MODELS AND A CALL TO ACTION (WHITE HOUSE REPORT)
About our Program
The College Advising Corps (CAC) at Duke University works to increase the number of low-income, First Generation College and underrepresented high school students in rural North Carolina who enter and complete higher education. Duke currently has 18 college advisers in central North Carolina high schools. The program is sponsored by the John M. Belk Foundation, AmeriCorps, The Anonymous Trust and The Duke Endowment.
Even many of the highest-achieving disadvantaged students — young men and women who are well qualified to continue their education beyond high school — do not consider attending a four-year college, and many who say they plan to apply, never do. The national student-to-guidance-counselor ratio of 467:1 means that the average student spends 20 minutes per year talking to his or her counselor. Moreover, low-income and first-generation students are particularly underserved, with many never seeing a college adviser.
Our Advising Model
Emphasizes a near-peer model so advisers are close in age to the students they serve.
Works in partnership with colleges and universities across the state, drawing on their infrastructure and resources.
Serves the whole high school, rather than a cohort of particular students, to foster a school-wide college-going culture.
Participate in a national external evaluation to quantitatively measure outcomes and qualitative results.
Focuses on best-fit colleges, encouraging students to attend schools that will serve them well both academically and socially.
Program Eligibility
In order to comply with the National College Advising Corps "near-peer" advising model, all adviser candidates must meet these requirements in order to be considered for employment:
Advisers should have a successful academic record.
Advisers are hired for a one-year service commitment with an option to be re-hired for a second year. Advisers cannot serve with the Advising Corps for more than two years.
Advisers must demonstrate a commitment to public service as evidenced by previous work in the community and/or among the targeted populations.
Duke advisers receive intensive training before serving in a high school, completing a five-week practical curriculum that focuses on college access, college admissions, financial aid, student services, diversity, community service, and professionalism.
Partner High Schools
Bartlett-Yancey High School (Caswell County Schools)
Cedar Ridge High School (Orange County Schools)
CE Jordan High School (Durham Public Schools)
City of Medicine Academy (Durham Public Schools)
Garner Magnet High School (Wake County Schools)
Hobbton High School (Sampson County Schools)
Knightdale High School of Collaborative Design (Wake County Schools)
Lakewood High School (Sampson County Schools)
Lee County High School (Lee County Schools)
Midway High School (Sampson County Schools)
Northern High School (Durham Public Schools)
Orange High School (Orange County Schools)
Person High School (Person County Schools)
Riverside High School (Durham Public Schools)
Smithfield-Selma High School (Johnston County Schools)
Southern Lee High School (Lee County School District)
Meet Our Advisers
Bryant Lewis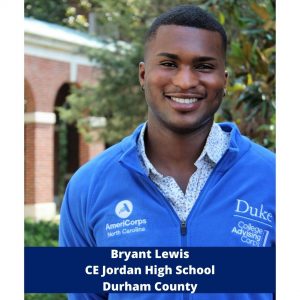 Bryant is a Duke class of 2021 graduate who majored in Evolutionary Anthropology with minors in chemistry and theatre arts. He's currently taking a gap year between undergrad and medical school. In his time at Duke, Bryant competed on the men's varsity Track & Field team as a high jumper. He was also a very active member of the theater department and held various leadership roles. He wishes to serve as an adviser who motivates and equip his students to take on whatever goals they set out for themselves.
Rebekah Lester
My name is Rebekah, and I am excited to be a College Advisor this year! My family now lives in Oregon, but Texas is my home state. I love
eating ice cream (especially Blue Bell), spending time with my family,
watching sunsets, and making puzzles. I am a twin sister and have 3 older
siblings as well. I graduated from Duke in 2020 with a Psychology major
and an Education minor, both of which I hope will help me in this Duke CAC
role.
Esperanza Hernandez
My name is Esperanza Hernández Vázque and I was born in Veracruz, Mexico. I migrated to the United States with my family when I was two years old and have called Durham, North Carolina my home ever since. My challenges as a first-generation college student and immigrant during the college application process inspired me to serve as a college adviser. In the future I hope to dedicate my life to serving the Latinx immigrant community as a civil rights or immigration attorney.
Gaelyn Dent
Gaelyn is the current adviser serving Hobbton High School in Sampson County.
Gena Ntirugelegwa
Gena is the current adviser serving Garner Magnet High School in Wake County.
Rezilience Williamson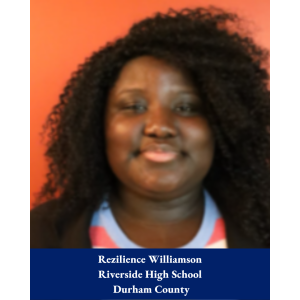 My name is Rezilience Williamson and my pronouns are they/them. I am a Durham-born, Black queer storyteller authoring dreams to reimagine dynamic pathways through a heteronormative patriarchal world. I hope to cultivate curiosity through melding poetry, passion, and possibility together, one story, one strategy at time. At Duke, I was a Rubenstein Scholar '21 and graduated with a minor in Education and a Cultural Anthropology, BA. My dream is to become an elementary school teacher who educates and empowers black and brown children in and out of the classroom.
Bernice Meja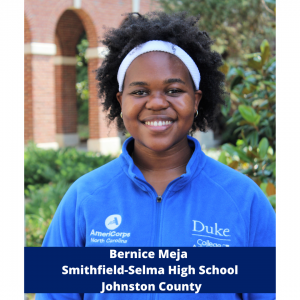 Hi, my name is Bernice Meja! I'm originally from Durham, NC however I reside in Canada and my parents are from Zimbabwe. I graduated Duke this past May where I majored in Physics and Philosophy. I enjoy playing rugby, listening to music, watching anime and Youtube, and hanging out with friends. I'm really excited about becoming a College Advisor and making a positive impact in a student's life.
Ezra Kalmowitz
My name is Ezra Kalmowitz, and I'm from Detroit, Michigan. I graduated from Duke in 2021 with a degree in Biology. Outside of class, I mentored high school students on STEM, research, and applying to college through programs like HackBio and BioSTEMs. Working with the College Advising Corps was the natural next step for me. Next year, I will start applying to medical school.
Chaz Beauchamp
My name is Chaz (Charles) Beauchamp and I am originally from Indianapolis, Indiana. In May I completed my degree in neuroscience and plan to pursue work in related fields post-DCAC. My main hobbies include tennis, gaming, and reading. I enjoy being active, learning new things, and thinking deeply.
Sharon Kinsella
A Macon, Georgia transplant from Frisco, Texas, Sharon Kinsella is a 2020 Trinity graduate who studied Global Culture in Literature, Theatre, Innovation and Entrepreneurship, and vocal performance. As an undergrad, Sharon spent most of her free time performing with Hoof 'n' Horn, singing in the Duke Chorale, working different jobs in arts administration, and maintaining a (mostly) nominal membership in the femme-centered SLG Illyria. Although Sharon had planned to pursue joint careers in performing arts administration and performance, she now feels led to explore career paths based in service, humanitarianism, and mentorship. Since graduating, Sharon has developed interests in yoga, health and wellness, and spirituality and hopes to continue exploring these interests alongside her exploration of career purpose. She's excited for the opportunity to make a difference by increasing access to higher education!
Meghana Giri
Hi! My name is Meghana Giri, and I'm originally from Anniston, Alabama. I recently graduated from Duke with a B.S. in Biology and minors in Global Health and Chemistry. I'm passionate about both health and education, and in the future, I hope to become a doctor and use my experience working in the CAC to inform health education/literacy community outreach initiatives. In my free time, I love to dance (I was on a bhangra team and a tap dancing team at Duke) and to recreate my grandmother's amazing South Indian recipes! I'm extremely excited to work at Knightdale High School this year and become part of their amazing community!
Raquel Butner
My name is Raquel Butner and I'm from Oakland, California. I graduated from Duke in 2021 with a major in Public Policy and minors education and history and I'm working on obtaining my teaching license. I'm extremely passionate about educational policy and educational equity so this program was a must for me! I'm excited to have a positive impact on students and help guide them on their college journey. After this experience, I hope to teach high school history then move into the educational policy sphere on a local, state, or federal level to continue to make a positive change on the education system in the US.
Emma Schmaltz
Hey everyone! My name is Emma Schmaltz and I'm from Wichita, Kansas. At Duke I studied environmental science, marine biology, and chemistry! After graduating in May of 2020, I started working full time as a research technician for the Oceans and Human Health Initiative (through the Medical Oncology department of Duke Health and the Nicholas School of the Environment) continuing the research I was involved in during undergrad. In addition to my love for science, I enjoy making music (I retaught myself to play piano and bongos over quarantine), hiking, art, and reading. Some of the things I am most passionate about include environmentalism, education, and community outreach. I look forward to working with the students of Southern Lee High School and supporting them as they navigate their post-secondary plans.
Lydia Hendrick
Hi, my name is Lydia! I'm a first-generation college student from Oxford, North Carolina. I graduated from Duke with a major in Biology and a certificate in Documentary Studies. My favorite part of being a College Adviser is showing students the range of possibilities that are open to them. In my free time, I like to paint, take photographs, play piano, and hang out with my cat.
Trevor Anderson
I am from the suburbs of San Diego county and graduated in Duke's class of '21 with a major in Biology and minors in Global Health and Political Science. I am currently applying to medical schools but cannot think of a better way to spend my gap year than working with CAC! I see my future career at the intersection of clinical care and policy-oriented public health advocacy. I absolutely love to cook (especially Italian), explore Durham's amazing food scene, and play with my super energetic Aussiedoodle puppy Truffle. I am so excited to work with Northern High this year, as college access is something I care deeply about!