"Every year hundreds of thousands of low-income students face barriers to college access and success. Low-income students often lack the guidance and support they need to prepare for college, apply to the best-fit schools, apply for financial aid, enroll and persist in their studies, and ultimately graduate."

—INCREASING COLLEGE OPPORTUNITY FOR LOW-INCOME STUDENTS: PROMISING MODELS AND A CALL TO ACTION (WHITE HOUSE REPORT)
About our Program
The College Advising Corps (CAC) at Duke University works to increase the number of low-income, First Generation College and underrepresented high school students in rural North Carolina who enter and complete higher education. Duke currently has 18 college advisers in central North Carolina high schools. The program is sponsored by the John M. Belk Foundation, AmeriCorps, The Anonymous Trust and The Duke Endowment.
Even many of the highest-achieving disadvantaged students — young men and women who are well qualified to continue their education beyond high school — do not consider attending a four-year college, and many who say they plan to apply, never do. The national student-to-guidance-counselor ratio of 467:1 means that the average student spends 20 minutes per year talking to his or her counselor. Moreover, low-income and first-generation students are particularly underserved, with many never seeing a college adviser.
Our Advising Model
Emphasizes a near-peer model so advisers are close in age to the students they serve.
Works in partnership with colleges and universities across the state, drawing on their infrastructure and resources.
Serves the whole high school, rather than a cohort of particular students, to foster a school-wide college-going culture.
Participate in a national external evaluation to quantitatively measure outcomes and qualitative results.
Focuses on best-fit colleges, encouraging students to attend schools that will serve them well both academically and socially.
Program Eligibility
In order to comply with the National College Advising Corps "near-peer" advising model, all adviser candidates must meet these requirements in order to be considered for employment:
Advisers should have a successful academic record.
Advisers are hired for a one-year service commitment with an option to be re-hired for a second year. Advisers cannot serve with the Advising Corps for more than two years.
Advisers must demonstrate a commitment to public service as evidenced by previous work in the community and/or among the targeted populations.
Duke advisers receive intensive training before serving in a high school, completing a five-week practical curriculum that focuses on college access, college admissions, financial aid, student services, diversity, community service, and professionalism.
Meet Our Advisers
Caswell County
Jynna Perry
Hello everyone, my name is Jynna! I am a first generation college graduate from Roxboro, NC. I graduated from the North Carolina Agricultural and Technical State University. Going to college was an amazing experience and piece of my life I will never forget. I enjoy working with students and I'm and very passionate about being a college advisor. This role hits home for me because I had an advisor who made a lasting impression on me and helped me with my college career. Students starting a new chapter in their lives need the help and support because transition can be a little scary. I hope to be an essential tool to help the process be as smooth and exciting as possible.
Email: jynna.perry@duke.edu
Durham County
Johnston County
Maria Garcia-Ortega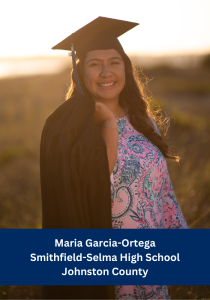 I am a first generation Mexican-American from Johnston County, NC. I graduated from Smithfield-Selma High School and I attended the University of North Carolina Wilmington where I majored in Psychology with a Leadership Studies minor. My faith, family and friends are very important to me. I enjoy going to the beach, farming, traveling, trying new food places, matcha lattes, and boba. I am excited to serve back to the high school that helped me be where I am today.
Email: maria.garcia-ortega@duke.edu
Lee County
Brooke Peed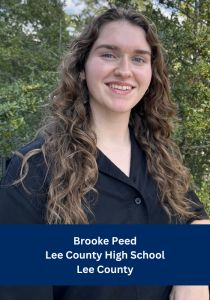 Hello! My name is Brooke Peed, and I am a UNC Wilmington graduate with a BA in International Studies. I focused heavily on education during my studies and I am excited to work with Duke College Advising Corps! Professionally, I hope to attend graduate school and become a school counselor in the future. Personally, I enjoy traveling, hiking, concerts and museum- hopping.
Email: brooke.peed@duke.edu
Orange County
Zion Thompson
Hi! My name is Zion and I am a Psychology and Women and Gender Studies graduate from the University of North Carolina at Chapel Hill. I love coffee, music, nature, and absolutely anything dealing with art. Promoting and providing safe, comforting spaces for any and everyone is a huge passion of mine, so I am excited to do just that with everyone I meet through College Advising Corps.
Email:zion.thomspson@duke.edu
Jaida Torain
Hello! My name is Jaida Torain, and I am from Haw River, NC. I am a proud graduate from the University of North Carolina at Charlotte with a Bachelors degree in Psychology. I am excited to serve as a College Adviser because I understand that the college application process can be stressful, and I would like to help students navigate that. Furthermore, I enjoy encouraging students to strive for greatness and embrace all opportunities!
Email:jaida.torain@duke.edu
Person County
Jaime Ceballos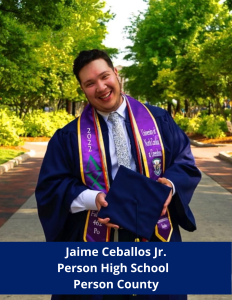 Hello Everyone! My name is Jaime Bueno Ceballos and I'm a recent UNC Greensboro '22 double degree graduate in Community Recreation & Event Planning and Communication Studies. My background is heavy in my passion for civic engagement and event planning. In past roles i've served as Director of Unity for UNCGs' Fraternity & Sorority Association and served as a Community Engagement Intern for the Greensboro Police Department & currently the Greensboro Fire Department. In my free time I'm a lover of the arts, I enjoy playing the saxophone, piano, ukulele, and some guitar as well as going to concerts and exhibits.
Email: jaime.ceballos@duke.edu
Richmond County
Mohamed Fall
Hi, I am Mohamed Fall. I recently graduated from the University of North Carolina at Chapel Hill with a Bachelor's degree in Economics and a minor in Statistics and Analytics.
I am passionate about helping students navigate the college admission process and find the right fit for them. Ultimately, my goal as a college adviser is to empower students to make informed decisions and pursue their dreams confidently and enthusiastically. It's an honor to offer guidance and support to students as they navigate the college admission process and discover their ideal fit.
Email: mohamed.fall@duke.edu
Ajea Hughes
I'm Ajea Hughes. I am a recent graduate of Winston- Salem State University, where I earned my Bachelor's Degree in Exercise Science as a First Generation student! I grew up in Rockingham County, NC and that's where I attended school through high school. It has been an honor to serve underprivileged youth in my community this last school year and I have always wanted to expand on that and help others outside of my community. I spend my free time reading, taking walks, and watching Jeopardy!
Email: ajea.hughes@duke.edu
Sampson County
Wake County
Jayda Bernard
My name is Jayda Bernard and I had graduated from William Peace University as an honors student holding a BA in Simulation & Game Design. Over the past 5 years, I have been passionate about community service and helping students thrive within an educational environment where, not only can they hone on their dreams but also themselves. Being a first generation college student, I strove for leadership from being a Student Coordinator for the orientation team to being a Resident Assistant on the WPU campus. In doing so, I have received student leader of the year award for 2 years as well as Miss Peace during my senior year. My mission and personal interest is helping those to have easier access to their future with higher education.
Email: jayda.bernard@duke.edu
Michelle Rivera-Colon
Hi everyone! My name is Michelle, and I'm originally from San Juan, Puerto Rico. I am a recent graduate from North Carolina State University with a Bachelor's in Psychology. In my free time, I love to be outdoors, spend time with family, and practice guitar. My personal goal as a Duke CAC adviser is to lead my students to success on their journey to post-secondary education by not only fostering a supportive environment, but also providing personalized guidance. I look forward to being a part of this program in helping students navigate the complexities of college application processes with confidence and clarity.